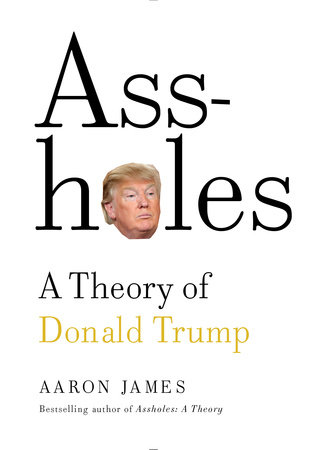 Back in 2014 I reviewed a book by philosophy professor Aaron James called Assholes. A Theory. I discussed how his study related to politics and politicians, particularly those who call themselves "A-type" personalities (including one or two on the local council).
Well James wrote another book, really an addendum to this one, titled Assholes. A Theory of Donald Trump. It was smaller than your average paperback, and a mere 130 pages, perhaps 20,000 words long. And since it came out just before the 2016 presidential election, it really doesn't deal with the startling number of asshole things – the many, many asshole things – Trump has done since then. Perhaps that might come in a sequel. A much larger, longer sequel. A multi-volume work it would have to be, to really do him justice.
I picked the book up this weekend during my visit to Toronto, and read it cover to cover. Sure, it's a bit dated but it still has meaning in today's politics. And it relates to our own local council even more than the first book. (Check out the author's website, too.)
James didn't merely pen a screed against Trump. That's been done, is still being done by savvy media and political commentators worldwide. Trump is an easy target for so many reasons, not least of all because he lies often and aggressively and is both ignorant and a clown. Nothing you don't already know about him. Nothing the whole world doesn't know about him.
No, this is much deeper than a single asshole, even one that big and that pompous. It – like his earlier book – is reflective of a whole culture of the ignorati that has risen worldwide. Trump is merely the most visible icon of darkness as the intellectual lights go out.
James examines a trend in politics that has seen the rise to dominance of similar assholes in numerous nations. And along with the asshole in charge comes a parallel government and bureaucracy that sees the ignorati, the illiterati, and the anti-intellectuals elevated to power. As we see in the USA, bigoted, theocratic, right-wing dictatorships and oligarchies are emerging in what were once democratic nations. More and more of them are looking and acting more and more like North Korea or Iran these days.
Continue reading "Assholes part two: Trump and his local mimics"