Carrying on in the tradition of my last post, here's another of the stories from Paul Reps' book, Zen Flesh, Zen Bones. Before I repeat it, consider the story of Diogenes, the Greek philosopher and founder of the school of Cynics (cynos is Greek for dog, thus the "dog" philosophers). Diogenes once complained that, "Dogs and philosophers do the greatest good and get the fewest rewards." I might add municipal politicians to that list…
He broke almost every rule of civic and social convention to teach his philosophy, almost like a Zen master using koans to break the bonds of rigid logic. Diogenes has a certain ambivalent attraction for Westerners, because of his iconoclastic,
"…talent for undercutting social and religious conventions and subverting political power…"
Yet his flagrant dislike for artificiality makes us uncomfortable because of our social herd instinct and our collective passion for shiny new toys. His contempt for convention, and his acts in flouting them are, we are told,
"…for the sake of promoting reason and virtue. In the end, for a human to be in accord with nature is to be rational, for it is in the nature of a human being to act in accord with reason."
Yet Diogenes is also seen as very negative, rough, unwashed, misanthropic… and yet wise. Plato, when asked about Diogenes, sneeringly called him a "Socrates gone mad." His sayings show a remarkable wisdom that is almost Zen-like:
"Those who have virtue always in their mouths, and neglect it in practice, are like a harp, which emits a sound pleasing to others, while itself is insensible of the music."
Diogenes apparently asked, rhetorically I suppose,
"Of what use is a philosopher who doesn't hurt anybody's feelings?"
Editors feel the same way.
He also said that, "there was one only good, namely, knowledge; and one only evil, namely, ignorance." A phrase like that could be well repeated today. Author George Iles once said, "Whoever ceases to be a student never was a student." We can never stop learning, searching for answers and knowledge, because when we do, we cease to move forward. We start to die, to shrivel when we cease to learn.
Another of Diogenes' sayings would challenge those who want the most, the best, the most expensive of all things: "He has the most who is most content with the least."
There's a tale told about Diogenes that's worth repeating because it captures some of his method and madness:
In winter Diogenes walked barefoot in the snow. In summer he rolled in the hot sand. He did this to harden himself against discomfort.

"But aren't you overdoing it a little?" a disciple asked.

"Of course," replied Diogenes, "I am like a teacher of choruses who has to sing louder than the rest in order they may get the right note."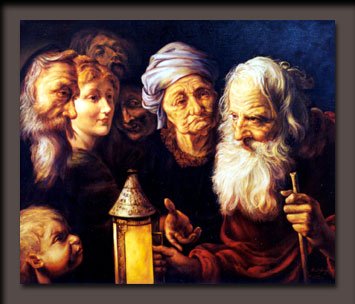 According to legend, Diogenes used to walk around the streets of Athens in the daytime with a lit lantern. When asked by passersby about why he needed a light in the daytime, he would reply to them that he was "looking for an honest man." That image of Diogenes has been passed down to us in many forms, including the Hermit card from the major arcana of the tarot deck (image at top). But it also relates to the Japanese story, below.
Other reports have phrased his response differently:
Diogenes has trouble finding such humans, and expresses his sentiments regarding his difficulty theatrically. Diogenes is reported to have "lit a lamp in broad daylight and said, as he went about, 'I am searching for a human being'" (Diogenes Laertius, Lives of Eminent Philosophers, Book 6, Chapter 41).
Honest man, human being – the translation isn't as important as the metaphor (it is intellectually similar to Thoreau's statement in Walden that, "To be awake is to be alive. I have never met a man who was quite awake. How could I have looked him in the face?").
And that's where the Zen tale comes in:
In early times in Japan, bamboo-and-paper lanterns were used with candles inside.

A blind man, visiting a friend one night was offered a lantern to carry home with him.

'I do not need a lantern,' he said. Darkness or light is all the same to me'

'I know you do not need a lantern to find your way,' his friend replied, 'but if you don't have one someone else may run into you. So you must take it.'

The blind man started off with the lantern and before he had walked very far someone ran squarely into him. 'Look out where you are going!' he exclaimed to the stranger. 'Can't you see this lantern?'

'Your candle has burned out brother,' replied the stranger.
An interesting difference. In the Diogenes tale, everyone can see the lantern, but it doesn't illuminate anyone. In the Zen story, everyone but the holder who needs it most can see it (and see it has been extinguished). Diogenes is the lamplighter, the blind man is only the carrier.
Zenmonkeys suggests this is the moral:
Using ideas of one person to enlighten another is like the blind man with the lantern; the light may go out along the way and you'll never know.
And that certainly resonates (and it is this resonance that made me think of this tale as a lesson to ponder). But, turning again to Thoreau's statement, the blind man is not fully "awake" in that he lacks one critical sense. He cannot effectively borrow that sense. No one can "look him in the face" because his lantern has gone out.
The Buddhist story has many iterations that alter it subtly but significantly. For example, this one:
Late one night a blind man was about to go home after visiting a friend.

"Please," he said to his friend, "may I take your lantern with me?"

"Why carry a lantern?" asked his friend.

"You won't see any better with it." "

No," said the blind one, "perhaps not. But others will see me better, and not bump into me."

So his friend gave the blind man the lantern, which was made of paper on bamboo strips, with a candle inside.

Off went the blind man with the lantern, and before he had gone more than a few yards, "Crack!" — a traveler walked right into him.

The blind man was very angry. "Why don't you look out?" he stormed. "Why don't you see this lantern?"

"Why don't you light the candle?" asked the traveler
The message/moral here is quite different: if the lantern represents ideas, then it says you have to use them as intended, not merely carry them. And that unrealized ideas do not enlighten anyone. But here the responsibility lies on the blind man for not bothering to check if the lantern was lit (easily done with a candle – just feel the heat) and taking it for granted that others would take responsibility.
But here's a rather different version of the story I came across today:
A blind man was leaving a friend's house at night when he was suggested to carry a lantern. Laughing aloud, the blind man snapped, "What do I need light for? I know my way home !"

His friend patiently replied, "It's for others to see – so that they won't bump into you."

Sneering, the blind man agreed to use it. A little down the road, someone accidentally bumped into the blind man, startling him.

Fuming, he yelled, "Hey! You're not blind! So make way for the blind man!"

Further down the road, another person bumped into him. This time, he got angrier, shouting, "Are you blind? Can't you see the lantern? I'm carrying it for you!"

The stranger replied, "You are the blind one! Can't you see your lantern has gone out?" The blind man was stunned.

Upon closer look, the stranger apologised, "So sorry, I was the 'blind' one. I didn't see that you really are blind!"

The blind man uttered, "No no, It is I who should apologise for my rudeness."

Both felt greatly embarrassed, as the man helped to re-light the lantern.

Even further down the road, yet another person bumped into the blind man. The blind man was more cautious this time, asking politely, "Excuse me, did my lantern go out?"

This second stranger replied, "Strange! That was what I was about to ask you myself! 'Did my lantern go out?'"

There was a brief pause… before they asked each other, "Are you blind?"

"Yes!" they replied in unison, bursting with laughter at their predicament, as they fumbled with their lanterns, trying to help re-light each other's.

Just then, someone walked by. He saw their flickering matches just in time, and narrowly avoided bumping into them. He didn't know they were blind, or he would naturally had helped. As he passed, he thought, "Perhaps I should carry a lantern too, so that I can see my way better, so that others can see their way too."

Unbeknownst to all, the blind man's friend was all along following behind quietly with a lantern, smiling, making sure that he has a safe journey home, hoping that he will learn more about himself along the way.
Does this story have the same moral? Not really.It mixes all sorts of metaphors. The poster goes on at length about the lessons in this more convoluted tale, including this:
The blind man's unexpected bumping into strangers on the way home represents our unexpected stumbling onto obstacles on the path of practising the Dharma. Each and every obstacle however, need not be seen as obstacles but an invaluable opportunity or stepping stone to learn more about oneself, a chance to become wiser and kinder.
Yes, the bumps in the road can be seen as obstacles or challenges for improvement on our journey. But I also read in it a suggestion of the controlling force stealthily walking behind the blind man, not so much to help but to direct. But yet this "friend" doesn't help when the blind man stumbles and collides with others, simply watches while the blind man makes the mistakes. There's a lesson in that, too.
Local references? Take them as you see fit. I didn't write the tales, just reprinted them..