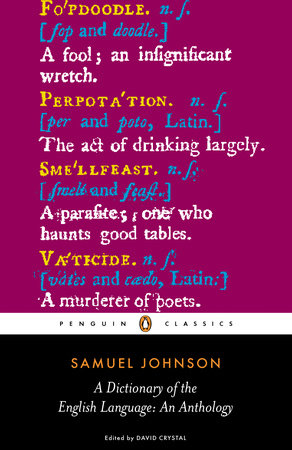 When a copy of this selection from Samuel Johnson's famous dictionary arrived last week, I was delighted, and immediately reminded of my late, and well-loved friend, Bill. He would have appreciated the book, chuckled over Johnson's witty definitions, delighted in the words at play. We would have sat around the kitchen counter, alternately reading random definitions from the book, in between sips of wine.
Like every good writer I've ever known, Bill loved words, puns, wit, and the interplay of language.
Sadly, Bill died of esophageal cancer late last year, the same cancer that took my father a few years earlier. A nasty, painful, flesh-wasting disease. Because of that, Bill and I never got to sit down and share our thoughts about this book over a glass of wine, as we had done many times over many different books, before. I saw him a couple of weeks before his death, as he lay, bedridden, in palliative care. A thin shadow of the man who used to come up for long weekends to spend time with us.
Bill was a passionate reader and we shared many books and interests in common; especially those on Napoleonic and English history. He had a passion for British naval history, and Jane Austen's life and times, and he was a fount of knowledge about the late 18th and early 19th centuries. He could quote Shakespeare, Gilbert & Sullivan, and Austen. He introduced us to numerous BBC dramas, comedies, and specials, and he was generous in lending his DVDs of them. He had a musical streak and we played guitar and ukulele together. And, of course, he loved words.
I was reading through this book the other night, and wondered how Johnson himself felt about friendship and death. James Boswell was his biographer, friend and companion late in his life, but did they share the same sort of closeness as I had with Bill? Boswell went off on a trip to Scotland when Johnson was sick, and was away when the latter died, in 1784. How did Johnson feel about Boswell's absence, or Boswell and being so far away when his friend died?
Boswell's comment on hearing of the death was, "He has made a chasm, which not only nothing can fill up, but which nothing has a tendency to fill up." I felt similarly, when Barbara, Bill's wife, called to tell me of passing, last year. And I felt relieved, not that he was gone, but that his suffering was finally over. I am not ashamed to admit I cried at the news.
I'd known Bill since the late 1970s-early '80s, back when we both worked on InfoAge magazine, years even before I met Susan. Many the evening back then we stayed up late and talked, sometimes argued, and drank our wine while playing chess, go, or some wargame – at which he almost always won. He was the smartest, funniest man I ever met and my time with him – our time, really, since he was a friend to both of us – was precious.