Back in the late 1990s, I wrote an essay about the "controversy" over who actually wrote the works of Shakespeare. I wrote, then,
Not everyone agrees that Shakespeare wrote Shakespeare. The challenge to his authorship isn't new: for the last three centuries it's been the most popular whodunit of literature: trying to uncover the true identity of the author of the world's greatest dramas and comedies. I can't think of another author of note in the world who is considered not to have written the works under which his or her name is penned. Even Shakespeare's many contemporaries are considered the author of the works under their names – Jonson, Marlowe, Fletcher, for example. But not Bill the Bard.
I don't think of it as a controversy as much as a conspiracy theory, since, like UFOs and chemtrails, it doesn't get any significant traction in academia. The dating of a particular play, or even if it belongs in the canon, may be controversial, but not conspiratorial.
However, it's one of the oldest conspiracy theories, at least in the literary world (Atlantis, the Noachian flood, and Freemasonry may be older, but not literary). And I have to admit to still enjoying reading about it. This old conspiracy still has legs. Plus, it has generated serious, intellectual and scholarly debate for centuries.* It's even become a meme, thanks to the internet.
A couple of years ago, in my endless search for books on the Bard, I picked up History Play, by Rodney Bolt (Perennial, New York, USA, 2005). I only started to read it last week. Bolt revives an old idea: that Christopher Marlowe, contemporary playwright, was the actual author of the plays attributed to William Shakespeare.
Like that of the contemporary favourite among literary conspiracy theorists, Edward de Vere, the Earl of Oxford, Marlowe's life presents a significant challenge to explain in terms of the theory: Marlowe was murdered in 1593.
That's twenty years before the last known works by Shakespeare were penned (Henry VIII, and Two Noble Kinsmen). de Vere, at least, died in 1604, more than a decade after Marlowe, so his supporters have a shorter time to cover.
The "solutions" for this rather uncomfortable historical fact are either that the person in question didn't really die, but rather went into hiding and continued to write, or that he (or she in the case of those who attribute the plays to Elizabeth I) wrote them all before, and they were released sporadically after that death.
For Marlowe, it was even more inconvenient to "die" at age 29. Considering he was in university until 1587, that doesn't leave a lot of time to write the 36-plus plays and numerous poems attributed to Shakespeare. Unless, of course, we was really alive all this time, as Bolt suggests.
Bolt overcomes this significant problem in grand fashion: Marlowe faked his own death and fled to the continent with a copy of Hollinshead's Chronicles in his chest (Chronicles was, of course, one of Shakespeare's prime sources). The book is full of Elizabethan spy stories – if nothing else it's wildly entertaining.
Marlowe has been presented as the actual author of the Bard's works since at least 1819 (this article dates it to 1895). While it's accepted that Marlowe influenced Shakespeare, his death usually involves some rather fantastic explanation to make him stand up among the other conspirators.
The argument is generally that a "lout" like William Shakespeare had neither the education nor experience to write about such a wide range of topics as he did. Only a nobleman like de Vere and Bacon had that background. Marlowe, despite being raised in a middle-class background similar to Shakespeare's (Marlowe\s father was a cobbler) had better tutelage and Cambridge schooling. As it says on Shakespeare-Oxford.com:***
1) It is highly unlikely that Shakespeare's works could have been composed by the person to whom they are traditionally assigned.

2) The qualifications necessary for the true author of these works are more adequately realized in the person of Edward de Vere, 17th Earl of Oxford, than in the many other candidates proposed in the last two hundred years.
So how did Shakespeare's name get put on them? The real, noble authors would lose face if they were identified as the authors, so they used a minor actor as their mouthpiece.** Wikipedia notes:
Reasons proposed for the use of "Shakespeare" as a pseudonym vary, usually depending upon the social status of the candidate. Aristocrats such as Derby and Oxford supposedly used pseudonyms because of a prevailing "stigma of print", a social convention that putatively restricted their literary works to private and courtly audiences—as opposed to commercial endeavours—at the risk of social disgrace if violated. In the case of commoners, the reason was to avoid prosecution by the authorities: Bacon to avoid the consequences of advocating a more republican form of government, and Marlowe to avoid imprisonment or worse after faking his death and fleeing the country.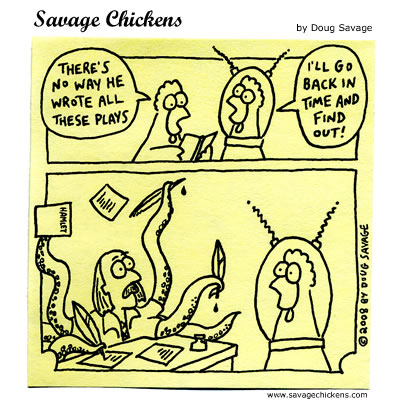 That argument, however, doesn't hold a lot of water since many nobles in the Elizabethan era wrote plays and poems openly, including de Vere.
It all hinges on how you perceive talent and genius. There's a certain snobbishness in believing that one needs noble birth and university degrees to have the talent to be creative and artistic. Yet every notion we have of genius says that it belongs to individuals regardless of background, upbringing and formal education.
The argument against Shakespeare as the author overlooks simple plagiarism, too. Shakespeare's sources are well known, and it's clear that he lifted many of his plots, characters and settings from the works of others, even some of the dialogue. His genius lay in how he assembled them into his plays.
In Shakespeare, Invention of the Human, Harold Bloom writes:
You cannot reduce Shakespeare to any single power, of all his myriad gifts, and assert that he matters most because of that one glory. yet all his endowments issue from his extraordinary intelligence, which for comprehensiveness is unmatched, and not just among the greatest writers. The true Bardolatry stems from this recognition.
Personally, I find all of the arguments against Shakespeare flimsy and contrived.  Most of the arguments in favour of alternative authors depend on a lot of circumstantial evidence,  "what-if" suppositions, and interpretations of internal "evidence" in the plays.****
The conspiracy looks for answers in the shadows and ignores those in common sight. And simply because 400-plus-year-old records are incomplete or were kept in ways different from our practices today doesn't mean anything is wrong.
But back to Bolt. His tale is fascinating reading, and he makes it clear his belief in Marlowe's authorship is absolute. Quotes from the plays are identified as Marlowe's work from the first pages. Yet Bolt pulls back in his afterword and teases us by saying it is all the "purest conjecture." Despite this, and despite the trips along what is clearly leaps of intellectual faith, what Bolt offers is entertaining and well researched, and in the end a rewarding read.
If only all conspiracy theories were so much fun to read.
~~~~~
* In his book, Contested Will, James Shapiro identifies at least 50 persons have been put forward as potential authors of the Shakespearean canon, since the notion of alternate authorship was first raised, in 1785. Wikipedia includes other dates for doubters.
** I've heard similar conspiracies about local blogs.
*** The site also boasts an "honor role" of skeptics who doubted Shakespeare as the author. However, simply because others believe in it, does not make it true, regardless of the perceived eminence of the skeptic. Just because some doctors smoke does not make the practice healthy or sanitary, no matter how good they are as surgeons. I cannot see any names of literary scholars or historians on the list, but there are a lot of actors.
**** I'm seldom convinced by interpretations by critics, historians and scholars that try to tell me what the author intended, thought, believed, or felt. Only the author can do that. Interpretations too often assume that what is written is not what was meant.
Latest posts by Ian Chadwick
(see all)