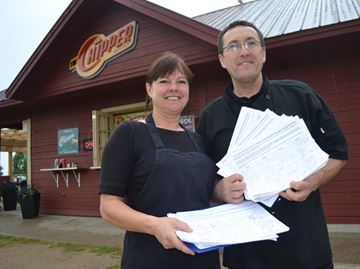 There are always those who don't want change. Any change upsets them. Anything that's new, different, exciting, challenging or just unusual bothers them and want it stopped. They want a steady state, where nothing happens, nothing changes, nothing is new. Stop growth, stop development, stop change.
Some of them are the 'last in' crowd – the recent arrivals who don't want any more newcomers because newcomers will change things, and they will change the reasons the 'last-in' group came here. They want to be the last ones to arrive and to shut the door after themselves. They want things to remain as they were when they arrived.
Some are long-time residents who think the world should have stopped in the 80s when the shipyards were still operating. They don't like what Collingwood has become since then. They don't like having more than one phone exchange. They don't like homes on the waterfront. They don't like turning lanes on First Street. They don't like having Thai, Japanese or Indian food restaurants because they're too 'foreign'. They want time to freeze and things to stop changing so damned fast. If it was good enough for their grandparents, it should be good enough for the rest of us.
And some are simply antis – people who are anti-everything. Anti-anything they didn't think of first. Everyone else's ideas are bad and they will protest them, write petitions, send letters, complain on social media
And some of these folks live at Sunset Point, across from the park. Last term these Antis protested the upgrades to Sunset Point Park – upgrades that made it more attractive and safer. They claimed the upgrades would reduce the amount of green space (grass cover), although the landscape architect made a presentation showing the upgrades would actually increase grass cover. They didn't like the new sidewalk aimed at reducing traffic conflicts between bicyclists and pedestrians because, well just because. They didn't want the dreary old washroom/ice cream stall building to be upgraded, cleaned up and improved. They didn't want a restaurant there with a patio. They didn't want to encourage outsiders to use the park.
Go to Sunset Point any warm summer weekend and it's packed with people. Visitors love to come there for a picnic. Buses arrive. Families gather. Kids and dogs play. People swim. It's lively, exciting, fun. Plus the new restaurant is busy and successful, with its patio packed. Visitors love it. So do a lot of residents.
Sunset Point Antis hate it. They want it to be their park, and theirs only. They don't want anything done to the park, even safety upgrades, without their permission. They don't like anyone else's success. And they most certainly don't want to encourage any more visitors to use their park. "Keep out of our park," they moan.
So what if this is a tourist town, so what if our economy depends heavily on visitors, on people enjoying themselves, having a good time, having good experiences and good recreational and dining? The Antis just don't want them here. Why, they ask, should outsiders have a good time, when they come here?
Continue reading "The Antis at Sunset Point"
1,121 total views, no views today