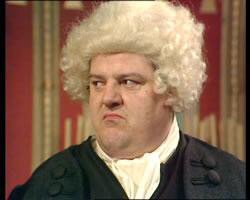 Mohocks, Samuel Johnson informed us in 1755, was the "name of a cruel nation of America given to ruffians who infested, or rather were imagined to infest, the streets of London." Moky meant dark, as in weather. Gallimatia was nonsense; talk without meaning. Commination was a threat; a denunciation of punishment, or of vengeance. Tachygraphy was the art of quick writing. Eftsoons meant soon afterwards. Saltinbanco was a quack or a mountebank. A dotard was a man whose age impaired his intellects (no Donald Trump jokes, please).
A lexicographer is a "harmless drudge, that busies himself in tracing the original, and detailing the signification of words." So reads the self-deprecating entry in Samuel Johnson's 1755 Dictionary of the English Language. It's a wonderful book to read even today, and not only for those few of us who delight in reading dictionaries.
Reading through Samuel Johnson's dictionary is, for anyone interested in words and history, a delightful, entertaining experience. Johnson's wit and intelligence come through in every entry, more so when you consider it was a one-man project that took eight years to complete. A truly remarkable accomplishment.
And it remained the basis of all subsequent dictionaries and remained in print right up until the absolute crown of dictionaries: the Oxford English Dictionary (compilation began in 1857, but it didn't start publishing until 1884, and the full dictionary itself did not see print until 1928!)
Johnson's work is also a window into the literary and social world of the 18th century as seen through the language. Johnson was contemporary with Adam Smith, Edward Gibbon, Jonathan Swift, Daniel Defoe, Rousseau, Kant, Spinoza, Voltaire and many other great authors and thinkers. It was also the era of political upheaval: both the French and American revolutions erupted.
If you've seen the wonderfully funny Blackadder episode about Johnson's dictionary (Ink and Incapability), you get a bit of the sense of how much fun a dictionary can be. Who can forget Blackadder's contrafibularity? Anaspeptic? Interfrastically? Frasmotic? You probably even tried to look them up in a more modern dictionary (yes, of course I did…).