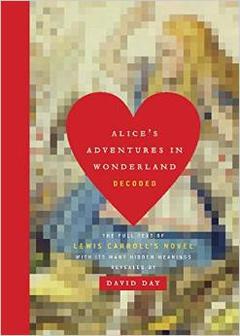 It is tempting to suggest author David Day's lush new book, Alice's Adventures in Wonderland Decoded is the final word on the mysteries and secrets behind Lewis Carroll's iconic children's fantasy, but alas, it would be an over-reach. Surely others will follow, perhaps even Day himself will extend his research to a sequel.
Aside from the difficulties of probing the motives of a man dead more than 125 years, there comes the question of interpretation, which is more like opinion than it is fact. Looking back 150 years at possible explanations for a reference or a character sometimes involves guesswork.
But even from its original publication, people knew there was more to Alice than a simple children's tale replete with frivolous nonsense. As Day explains, Carroll himself acknowledged some of the references and metaphors. But there remain others for be dug out of the text like opals from the Australian bedrock. Day is a superb, if sometimes eccentric, prospector.
In an interview in the National Post, it notes,
Day also argues that the book was meant to give a classical education to someone like Alice, who, as a girl, wouldn't be able to attend Oxford. Every character in Wonderland then becomes an allusion to a scholar or to a figure in Greek mythology; a reference to mathematical concept or to a famous work of art; or, quite frequently, a combination of all of the above.
It is fun, in a conspiracy-theory sort of way, to entertain hidden references to ancient gods, myths and mysteries, but as Sigmund Freud allegedly said, "sometimes a cigar is just a cigar." Those of you old enough to remember the Von Daniken Chariots of the Gods books know how quickly such egregious assumptions can be discredited and ridiculed.
Still, Day's effort is not to be dismissed: his arguments and theories are well explained and generally compelling. It is, to date, the most comprehensive and wide-ranging peek behind the Alice curtain, and certainly most elegantly published version (the full-colour hardcover is gorgeous). It took the author almost two decades to research and write.
And it's a good social biography of Carroll and his milieu, although it helps if you know something about the Victorian era, the British Empire, the impact of Darwin, and the social and political attitudes of the day.
But don't lose track of the prime reason Carroll wrote the book: to entertain, delight and (possibly) educate children. Let's not rub off all the innocence and the magic by too much analysis. As The Telegraph noted of the original book:
Future generations may see other hidden meanings. In a tale this rich, it seems highly likely they will. But for children the story itself, with its universal theme of an innocent youngster attempting to make sense of a strange adult world, is enough.