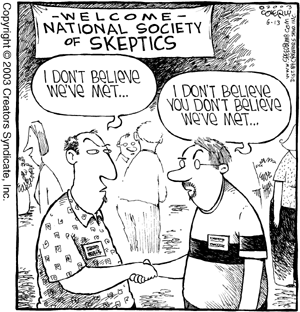 Years spent in the media, plus decades of independent practice as a writer and social critic honed my native skepticism into a protective psychological barrier against a wide range of social ailments and inappropriate, often dangerous beliefs. It has made me question motives, statements, logic and conclusions, and search for the underlying truths. It motivated me to explore, to examine, to dig deep. To try to understand, not simply deny.
It's an easy slide, however, from a healthy skepticism to a soul-destroying cynicism – using the modern sense of the word. Modern cynicism encourages acceptance of the notion that everything is bad, rotten and evil except the viewer; cynics become too lazy, too self-assured of their own faith and beliefs to investigate further. They draw conclusions from surface appearances without going deeper; and blanket everything with negativism.
Skeptics, however, keep enough of an open mind to continue asking questions. Healthy skepticism is often paired with conscious awareness, emotional intelligence and ruthless compassion:
In order to have more freedom and empowerment in our lives we need conscious awareness, healthy skepticism, emotional intelligence and ruthless compassion. The more we practice these skills, the less we'll be subject to manipulation and exploitation and the more unencumbered we'll be in pursuing true happiness and fulfillment…
Our skepticism will bring out the best in the upstanding people and institutions and will bring out the worst in those that are dishonest and corrupt. By asking questions and observing the reactions and responses of those we're questioning, we're able to discover who we're really dealing with and make informed choices with respect to them.
To question things is to take back control of our lives, because knowledge and understanding bring us power and choice and enable us to act on our own behalf in the best, most informed manner. Not accepting everything at face value and being skeptical about the underlying motivations of those who want to lead us, advise us or profit from us is a wise course of action for all the above reasons.
Cynics simply don't believe in anything but their own surety. They don't feel the need to go looking for the roots and the causes that skeptics hunt and wrestle with. Cynics are negative, skeptics are searching for answers. Cynics don't have to take responsibility for things because they've already decided the world is against them: skeptics look for answers and meaning to make things connect and work.
You cannot shed light into the darkness if you're convinced that there's some ulterior motive behind the light. That's why conspiracy theorists are for the most part cynics in the dark. Scientists, on the other hand, are generally skeptics with candles.
I've tried, through my life, to keep my skepticism healthy and active; a tool to fuel my curiosity, while dampening the trend to assume a cynical approach. I have tried to use skepticism in the way of free inquiry, as taught in the Kalama Sutra. After all, the word comes from the Greek skepsis, meaning "inquiry." Not doubt.
I'm not always successful in avoiding the cascade into cynicism – it's easier and faster, requires less effort and thought, especially with social media, but overall I believe I have stayed above it.
The philosopher Denis Diderot wrote in Pensées Philosophiques (1746):
Scepticism is the first step towards truth.
Continue reading "Skepticism Too Easily Slides Into Cynicism"
4,906 total views, 5 views today