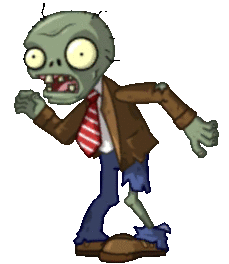 Wednesday's standing committee heard that the so-called "community-based strategic plan" has risen from the dead – a document that was committee-driven (not community; and a committee of carefully selected buddies, at that…), and was neither strategic nor a plan. See it in the agenda package.
A real strategic plan would have been council-driven, based on the vision of our elected representatives. But having none, The Block turned it over to an outsider and their friends to come up with something.*
Once The Block approved its creation in 2015, the resulting document, the 'CBSP,'** became a bureaucratic zombie that never seems to die, like an extra in some cheesy Bruce Campbell B-flick. And like that undead extra, it continues to ring the cash register.
This zombie is supposed to be a "report card," but instead it lists all sorts of minutiae that council patted its collective backs over, even though most things listed were simply part of some larger process, or just staff's regular jobs. For The Block to even comment on them would be to micro-manage. Or even nano-manage them. It's called the "2016 Report Card" even though 2016 is only two-thirds through. Maybe the other third of the year doesn't matter, as long as the consultant gets paid.
And of course, The Block wants to take credit for this and for what staff do. Like they actually rolled up their sleeves and dug in to do some real work instead of meeting in secret to plot and scheme and raise your taxes.
So in a term highlighted by having no accomplishments for the greater good, the "CBSP" has become The Block's poster child for their idea of success.
They hope that by waving it around periodically you'll be so dazzled by its brilliance that you'll forget that they raised your taxes. Twice. Or that they destroyed our 150-year-old working partnership between water and energy utilities and are running our electricity corporation into the ground. Or that they are trying (in secret meetings, of course) to kill the airport industrial park and its 400-plus jobs. Or that they almost scuttled the hospital redevelopment (and are still trying to do so…). Or they gave Councillor 'Senator' Jeffrey an unlimited expense account to wine and dine across the country (but apparently not Oakville where the latest FCM meeting was held – probably the in-drive food service and movie are terrible… and she can't get her warm Camembert in the car…). Or the staff morale they've shattered.
But I know that you, dear reader, aren't fooled. If this dreck is all they have to show for two years at the table, then it's a sorry statement. But let's take a closer look at it…