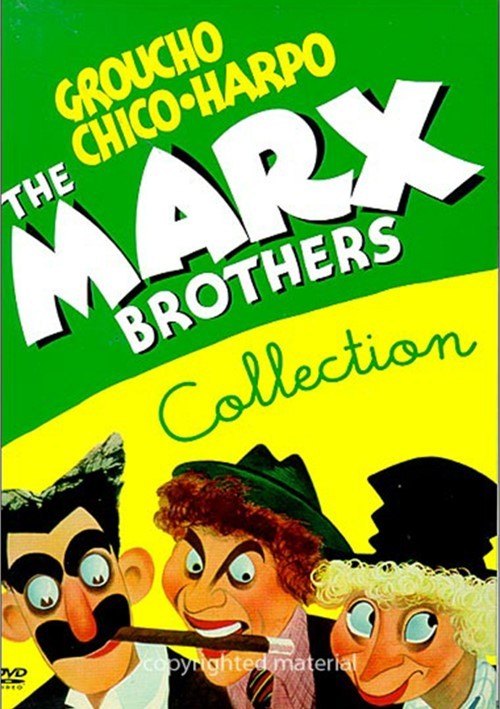 It may be a small conceit to say I was brought up watching the Marx Brothers movies on TV, but there's some truth in that claim. I remember seeing them on our small, B&W TV set on weekends when my brother and I were allowed to watch the programs of our choice. I also recall seeing the Three Stooges, Laurel and Hardy, Abbott and Costello, and others between the cartoons and kids' shows in the 1950s and '60s.
The Marx Brothers and Laurel and Hardy were acceptable comedians in my house because, I suppose, they were somewhat more sophisticated comedy. The former's films were really variety acts, with scenes of singing and dancing punctuation the zany sight gags and verbal repartee. My parents were fond of musicals, too, so that may have contributed to their tolerance of the Marx Brothers.
The Three Stooges were less tolerated: vulgar and violent, at least in my parents' eyes, with a lot of physical action: whacking and poking one another, which I suppose they feared my brother and I would imitate. Abbott and Costello were somewhere in between, along with Roadrunner and other Looney Tune cartoons. I can't recall seeing any W.C. Fields' or Mae Wests' films back then, but I may have.
I have a warm nostalgia for many of the acts and shows I saw back then, particularly the comedians, and over the years have read biographies and autobiographies of many actors. Today, I have a modest collection of  their films, although not every film they appeared in; I still enjoy watching them, especially those in B&W (Susan. on the other hand, doesn't care for most of them, so I usually watch them on my own).
All of these were acts my parents and grandparents knew well, since most of the work was filmed in the 1930s and '40s and was shown at theatres, often as double bills with other comedies, or more serious films, along with newsreels and shorts. I've never seen the Marx Brothers on the big screen, but I'd like to.
Most of these acts had also begun long before film; on Vaudeville and stage in the early 20th century. Some of the great comedians — Buster Keaton, the Keystone Cops, and Charlie Chaplin for example — made their mark in silent films. I saw some of those, too, in my youth; all with added soundtracks to better keep the audience's attention.
Although as kids we spent most of our day outdoors with friends, with exasperated sighs, my parents would let us watch TV when we were forced inside by weather or illness. As I recall, there were a lot of films and shorts from the pre-WWII era re-run on TV back then, not just comedy, broadcast to fill in the morning and afternoon programming slots.
This week, I received a set of Marx Brothers films that included their post-WWII works that I had not previously watched. That's what prompted me to write this piece (plus having recently finished reading Simon Louvish's book, Coffee With Groucho). I spent some time online reading about the brothers, reading reviews and rankings of their films, about the comedians between the wars, and daydreaming about watching TV in the 1950s and '60s. And looking forward to seeing those final Marx Brothers films I had not watched previously.
When I watch their films, I always keep in mind that Groucho (aka Julius, born in 1890), was younger than my father's father by two years, and only three years older than my mother's father. (Chico, or Leo, was born in 1888 and Harpo, or Adolph, in 1887). My grandfathers would have been equally as young and spry as the Marx Brothers were in those films. It's sometimes hard to imagine them that age, and not like the older men I knew, much later in their lives.
When the first Marx Brothers film was released, in 1929, my future father was 15, and my mother 10. That film, The Cocoanuts, was one of the early "talkies" — films with synchronized sound had only been made since 1927. My parents were teens in the era of this new technology. Film with sound! How marvellous it must have seemed to them, then, even in black and white (while colour was around from the early days of film, it wasn't perfected as a commercial product until the 1939 films Wizard of Oz and Gone With the Wind).
Groucho was 15 when he first went on stage, in 1905, imitating his more famous uncle's act, in a novelty group called the Leroy Trio. It wasn't until 1911 that four of the brothers appeared onstage together. They worked as a touring Vaudeville act until 1919, during which time they acquired their more famous stage names: Groucho, Chico, Harpo, and Gummo. Gummo enlisted in the US Army in 1918 and was replaced onstage by his younger brother, Herbert (aka Zeppo).
The act continued on stage until 1924, when their show, I'll Say She Is, became a hit and moved to Broadway where it ran successfully until 1925. It was followed by The Cocoanuts, and in 1928 by Animal Crackers, both of which would become their first two films (1929 and 1930, respectively).
Those first films immediately made the Marx Brothers stars. They quickly came out with Monkey Business (1931), Horse Feathers ('32), Duck Soup ('33), A Night at the Opera ('35), A Day at the Races ('37), At the Circus ('39), Go West ('40) and The Big Store ('41). All of them are classics, shot without CGI or stunt doubles.
By 1941, they had been working as a team for three decades. During that time, they had married, had children, and their brand of madcap comedy sometimes seemed stale. (Similarly, the comedy of the Three Stooges had waned as they aged; their act ran from 1922 until 1970. Laurel and Hardy's career was from 1927 to 1951.)
During this time, comedienne Margaret Dumont was a fixture and comic foil for the brothers, working with them from the Broadway version of The Cocoanuts, through their first seven films, until The Big Store. Her dialogues with Groucho are some of the best bits of these films. Dumont continued to act in films until 1964. Dumont and Groucho reunited briefly in 1965 for a skit on the TV show, Hollywood Palace. She appeared in 57 films, from 1917, and died in '65.
Rufus T. Firefly: Well, that covers a lot of ground. Say, you cover a lot of ground yourself. You better beat it – I hear they're going to tear you down and put up an office building where you're standing. You can leave in a taxi. If you can't get a taxi, you can leave in a huff. If that's too soon, you can leave in a minute and a huff. You know, you haven't stopped talking since I came here? You must have been vaccinated with a phonograph needle.
 Groucho to Dumont in Duck Soup
The brothers took a break from Hollywood after The Big Store, and didn't appear together again in film until A Night in Casablanca (1945). After that, they again went their separate ways until 1950, when they reunited to make Love Happy, considered by some to be their weakest of 13 films (it had originally been planned as a film for Harpo alone).
Groucho went on to star separately in three films, appear in others. He  hosted the quiz show, You Bet Your Life, on radio for three years and on TV for 11.
Otis Driftwood: It's all right, that's in every contract. That's what they call a sanity clause.
Fiorello: You can't fool me! There ain't no Sanity Claus!
Groucho and Chico, in A Night at the Opera
For many, the wisecracking TV host is the personality they best know Groucho for. For others (including me), it's the devious, witty character slinking about in films with his greasepaint moustache, tormenting Margaret Dumont. In 1974, at age 84, Groucho received an honorary Academy Award, "in recognition of his brilliant creativity and for the unequalled achievements of the Marx Brothers in the art of motion picture comedy." Well-deserved after almost seven decades in show business.
Chico died in 1961; Harpo in '64; Gummo in '77; Groucho a few months later in '77, and Zeppo in '79. My Canadian grandfather, three years younger than Groucho and a veteran of WWI, outlived him by five years.
I often wonder, as I sit these days in my darkened room watching a classic film on my computer monitor, if my grandparents or parents ever sat in a darkened theatre to watch the same film on the silver screen when it was only recently released. If so, did they laugh at the same gags as I do? I like to think so. It would be something we shared across the generations.
Will my children and grandchildren ever watch the movies I saw as a teenager or young man, and see them with the same sense of pleasure and nostalgia as I do these classics? I'll never know, but I hope that, if they do see them, they give a thought to me, watching those films when they were new. And laugh at the same gags that moved me back then.