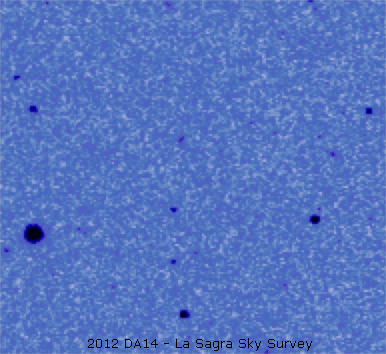 Seventeen thousand miles. Seems like a long way, but it's less than one tenth the distance from here to the moon, and it's within the satellite belt. In cosmic terms, it's frighteningly close. Consider that the Sun is 93 million miles way, and it affects everything on this planet.*
It's still a miss, though. Asteroid DA14 will race by Earth at 27,700 kPH, February 15. But it won't hit us. Whew.
You might be able to see it, if you know where to look. You'll have to be fast, though – it will move VERY quickly across the sky. And you'll need at least binoculars – even at 13 storeys tall, it won't be visible to the naked eye.
Wikipedia tells us this chunk of rock called 2012 DA14 is
…a near-Earth asteroid with an estimated diameter of about 45 meters (148 ft) and an estimated mass of about 130,000 metric tons
Some sites say it is 62m wide, but it probably is irregular in size, thus the difference. Even so, 45m is BIG if it hits us; big enough to wipe out a small city. The 1908 Tunguska event was caused by an object also less than 100m and it levelled several hundred square miles of forest. Were it to enter the atmosphere, it could also become an aerial blast like Tungsuka.
Space.com notes:
Asteroid 2012 DA14's close encounter is also a record-breaking celestial event… An object this large only passes this close to the Earth about once every 40 years, and likely only hits the planet once every 1,200 years…The asteroid will not only pass between Earth and the moon's orbit, but also fly lower than the ring of geosynchronous communications, weather and navigation satellites that fly high above the planet. Asteroid 2012 DA14 will be 5,000 miles (8,046 km) closer to Earth than those satellites during the flyby.
Pretty close. But a long way from the ISS, which orbits between 330 and 410 kms above the surface.
Read about what an asteroid is here – you'll also get an interesting comment on challenges to some cosmological ideas about how these bodies formed. If you haven't been following the recent announcements, several companies have declared their interest in mining these asteroids. The Edmonton Journal noted earlier this month:
It may sound more like science fiction than imminent reality, but two U.S. companies have been outlining plans to harvest asteroids for mineral wealth in what they hope will be a 21st century equivalent of gold and oil rushes.
They intend to deploy small satellites to prospect asteroids, then effectively lasso them, transporting them into Earth's orbit to harvest precious metals and liquids.
The newest entrant to the fast-developing asteroid mining world is Deep Space Industries, which has just unveiled ambitious plans to send prospecting spacecraft in two years' time and begin extraction by 2020.
"It is exciting to be present at the beginning of the second space age, led by commercial businesses," David Gump, Deep Space's chief executive, told The Sunday Telegraph.
Anyway, it's not the apocalypse, Friday, but it is an exciting moment for science and might be a seminal moment for space commerce.
~~~~~
* It isn't a UFO from your favourite imaginary planet, sorry to spoil that for you. It's a lifeless chunk of rock. Get over it.