To pass the time doing two things I enjoy — writing and watching Godzilla films (and, yes… reading books about Godzilla films…) — I thought I would watch each Godzilla film in order, one per week, starting with the 1954 original, and write a synopsis/review of each one, trying to look at each one from my current perspective and knowledge (no comments about being in my dotage, please).
I'm also preparing myself by renewing my knowledge of the franchise in preparation for the 70th-anniversary celebrations coming next year, as well as possibly two new Godzilla films coming out this year (see footnote here). Who wouldn't want to celebrate a successful run of 70 years, after all?*
I will use my small library of books on Godzilla and Japanese kaiju (monster) films for resources and reference as I write (see list, below). I will also check online resources for some details, but my intention is not to be a comprehensive source of information about actors, directing, technique, historical reference, or cinematography, but rather to make personal comments on each film, and explain, where relevant, what this film meant to me, why it matters (or doesn't) in the Godzilla pantheon. Or what it looked like and felt when I watched it recently. And I will include, where possible, comments on, or reviews of, the American versions of the Japenese releases.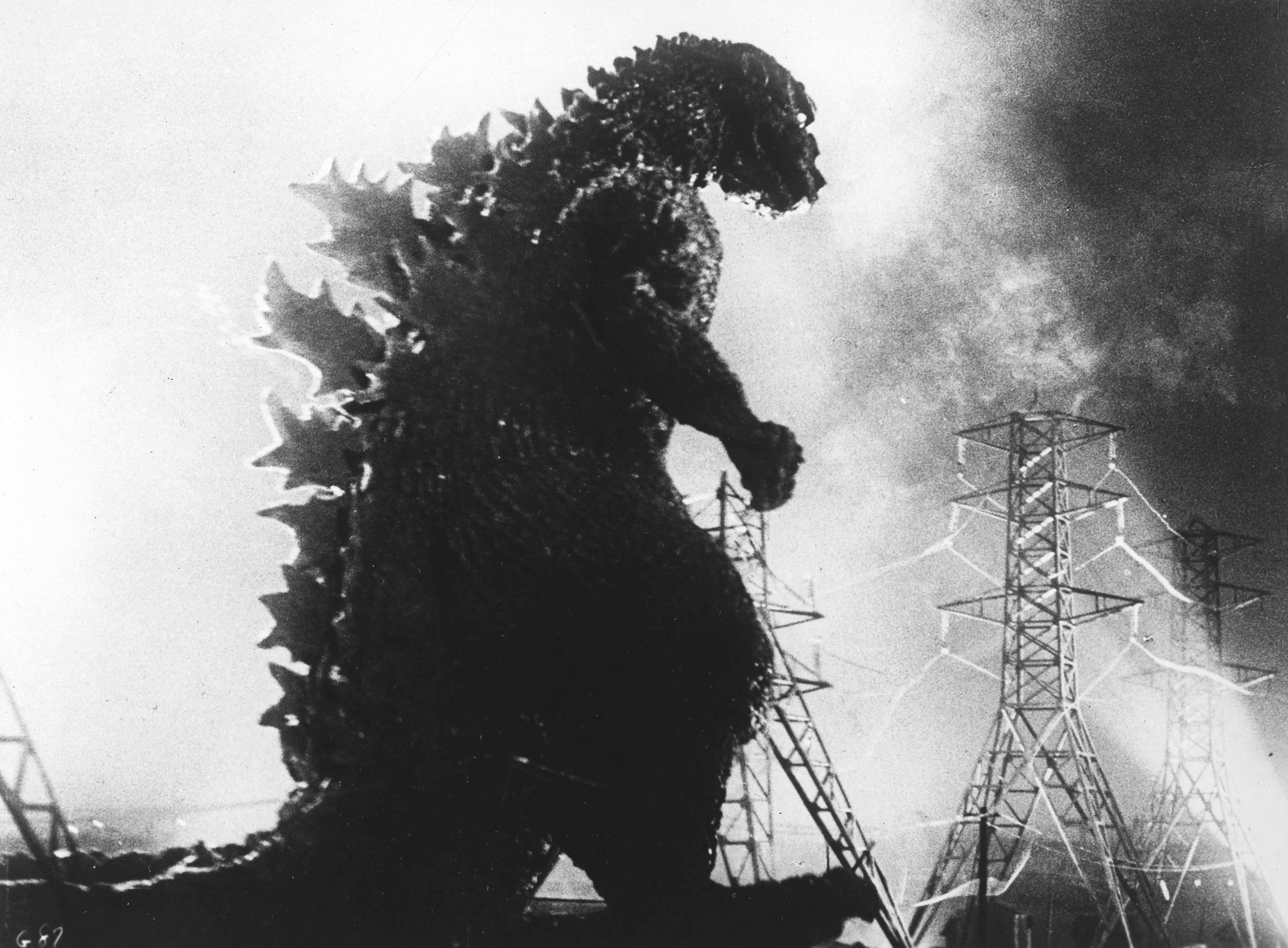 I'll also highlight some events and scenes in the films, and make notes as I watch. I'll use the time signature from the version(s) I am watching (which I will list). The first 15 films (1954-75) will be from the Criterion Blu-Ray collection of the Showa-Era films (1954-75); the rest will be from individual DVD and Blu-Ray discs I own, right until the most recent Godzilla vs Kong. The only film I do not own in its original, commercial release (DVD or Blu-Ray) is Godzilla vs Biollante, although I have watched it. I have a low-quality copy purchased on eBay (disingenuously sold as an original). But I'm still looking for a proper copy to own. (Showa, Heisei, and Millennium are the three film eras… see here and here if you want to learn more).
Godzilla was but one kaiju in the scary monster pantheon when I was growing up. The Mummy, Frankenstein's monster, Dracula, the Creature From the Black Lagoon and others were all part of it, most of them made by me in Aurora model kits. I bought the comics and magazines, I watched the films (and in later years, I collected them on VHS, DVD, and Blu-ray). And when I was older, I read the books.
Godzilla has a bigger fan base these days than in the past, in large part thanks to the Universal revival (starting in 2014, with new films coming out soon), and in large part thanks to social media where aficionados can share their passion.
But despite being a cultural icon all these years, some folks still dismiss the films as cheesy, childish, or camp. But so what? The Batman and Robin TV series still enjoys many viewers because it's the very definition of camp. The bouncing ball sentinel of The Prisoner TV series was about as cheesy a special effect as you can get, yet the series is still well-respected. Childish? Harry Potter books and films had a huge adult audience, despite their intended targets of young adults. So do the Ice Age and Shrek franchises, and many Pixar/Disney films. Culture is about entertainment and enjoyment as much as anything else.
And then there's that whole "cultural appropriation" thing… can (should?) an old white guy from Canada write effectively and convincingly about a Japanese cultural icon? Or has G become international, especially thanks to the American involvement in the films? Or does worldwide fandom change things by sharing the culture? Maybe that's a musing for a future post. But as a HuffPost article from 2014 once noted:
Godzilla is a multicultural icon. If there was a Coca-Cola commercial featuring monsters that sung the national anthem, he'd be singing his part in a mixture of English and Japanese. He's been terrorizing Tokyo for longer than Disneyland has been around. Over the span of 60 years, he's battled Earthlings, space monsters and robots, spawned offspring and chased Matthew Broderick, all while belting out the most iconic roar in film history.
So maybe I won't be castigated for treading in another nation's culture.
Because of various commitments to appointments, board meetings, work, volunteering, dog-walking, other writing, housework, reading, shopping, gardening, cooking, baking bread, and probably some computer gaming, I may not be able to meet my intended weekly schedule every week, but I will try to follow up the following one. I hope. Life has that funny way of interfering with plans. And I'm always eager to write about our council's and mayor's failures and fumbles, which can occupy my attention for a while.
I may not revisit all of the films previously reviewed (see below for list) but if I re-watch them, I may do so. After all, one's perspective can change.
I won't, however, be reviewing the animated trilogy that was (or perhaps still is) shown on Netflix. I tried to watch the first one, but I am not a fan of the anime style, so I only got about 30 minutes in. We cancelled our Netflix subscription before I could get back to it and, frankly, I have no real interest in Godzilla cartoons (so no comments on the TV cartoon series, either), although I like other forms of animation (Loony Tunes, for example). See my earlier post for some more about Godzilla movies and sizes.**
These reviews will be just my opinions and observations, nothing deep or revelatory. Just something to pass the time and keep my writing skills sharp. And have fun, of course. How can you not have fun watching and writing about Godzilla? So please come back and look for the posts, the first review coming soon (and I may do more film reviews outside the canon, too…).**
Print resources (more details about these titles are in this post) I have (and other recommendations are always welcome):
Godzilla: The Official Guide to the King of the Monsters (aka Godzilla: The Ultimate Illustrated Guide), by Toho Co. and Graham Skipper, Welbeck Publishing, 2022. Covers all films including the 2021 Godzilla vs. Kong, with many photos of production and sets;
Eiji Tsuburaya: Master of Monsters, by August Ragone, Chronicle Books, 2014. A biography of the genius who created the special effects for much of the franchise, as well as other Japanese films;
Godzilla FAQ: All That's Left to Know About the King of the Monsters, by Brian Solomon, Applause, 2017. Good book with lots of insight, but needs an update to cover the most recent American entries;
The Big Book of Japanese Giant Monster Movies, Vol. 1: 1954-1982, 2nd edition, by John Lemay, Biceps Books, 2016. The first 15 Godzilla films are discussed, but the book covers much more than just Godzilla;
The Big Book of Japanese Giant Monster Movies, Vol. 2: 1984-2014, revised edn., by John Lemay, independently published, 2016. Despite the cover date, includes Shin Godzilla (2016), as well as many other Japanese kaiju films;
The Big Book of Japanese Giant Monster Movies: The Lost Films, by John Lemay, independently published, 2017. Films that never reached the silver screen including some that could have had Godzilla in them;
Godzilla on My Mind, by William Tsutsui, St. Martin's Griffin, 2004. A personal and cultural memoir by a professor who has taught about Japanese pop culture icons to university students (Godzilla-ology?), but it ends in 2000 (time for an update!);
Life Godzilla, magazine by the editors of Life Magazine, 2021. A good, but light intro to the franchise;
Critical History and Filmography of Toho's Godzilla Series, 2nd edn., by David Kalat, McFarland and Company, 2017. An excellent, in-depth book for anyone interested in the franchise history, but only goes to 2004 (Godzilla Final Wars). No photos, either;
The liner notes in the Criterion film collection noted above (and some of the supplemental features on the discs);
Godzilla Reviewed: 2021 Edition, by Steve Hutchinson, independently published 2021. Frankly a piece of amateurish crap in desperate need of an editor, and not actual reviews: just three paragraphs of vague or generic (and often poorly-written) opinions per film, without even basic info about the film, such as full release dates, running times, cast, special effects, director, composer, etc. It's more a thin booklet with one guy's rather lame and incomplete opinions than a book. I don't refer to this, but it's in my collection.
The Ultimate Godzilla Trivia Book, by Mark Hayden, self-published, 2021. An abuse of the word "ultimate." It's more like a brochure of content taken from the internet, using too-large print, poorly formatted, with a dreary layout and a single typeface. It lacks even basic information like a list of films, actors, release dates, running times, etc. Its 87 pages could easily fit in less than 40 if formatted and laid out by anyone with graphic or layout experience. And some basic grammar and punctuation would have helped. A waste of money.
Main online sources where you can learn more:
~~~~~
* Yes, I am well aware that I don't have to watch the Toho Godzilla films in strict chronological order of release. Most are not directly related to the stories of, or events in, previous films. Only a handful are actually sequels, and even those can be watched out of order without losing too much context. However, the recent US-made (Universal) Godzilla films are in a sequence from the 2014 film (not sure if that linear narrative will continue beyond 2024, however).
** My previous posts about Godzilla to date:
Latest posts by Ian Chadwick
(see all)