David Starkey's book, Elizabeth: the Struggle for the Throne, is the best book I've read on the period of Elizabeth's life between the death of Henry VIII and her own coronation. It gives a clear, richly detailled picture of the machinations, the politics and the society that she lived in during the 25 years before she became monarch – 1533 to 1558.
And what a life it was. In and out of favour, imprisoned, in fear of her life, threatened, cajoled, living on her wits, political puppet and Machiavellian instigator… Elizabeth emerges as a canny, quick and lively actor in these events.
I have a passion for the history of the Tudors, in particular Henry VIII and Elizabeth. I still enjoy watching the 1971 BBC dramatization of the Six Wives of Henry VIII
Thanks to my brother-in-law's former position in the National Archives, I was able to see and handle several historical items and documents from both monarchs, on my visit to England in 2011, including a famous letter from the Princess Elizabeth to her sister and Queen, Mary, over Elizabeth's alleged role in the Wyatt revolt. She protests her loyalty and allegiance to Mary at a time when a charge of treason would have meant her execution.
(A photograph of that letter (not mine) appears below, right; my own photographs, taken in low light because a flash was not allowed, are generally not as good for reproduction, but are steeped in nostalgia anyway.)
It's an indescribable thrill to hold such a piece of history in your hands, knowing its history, its age, and its author.*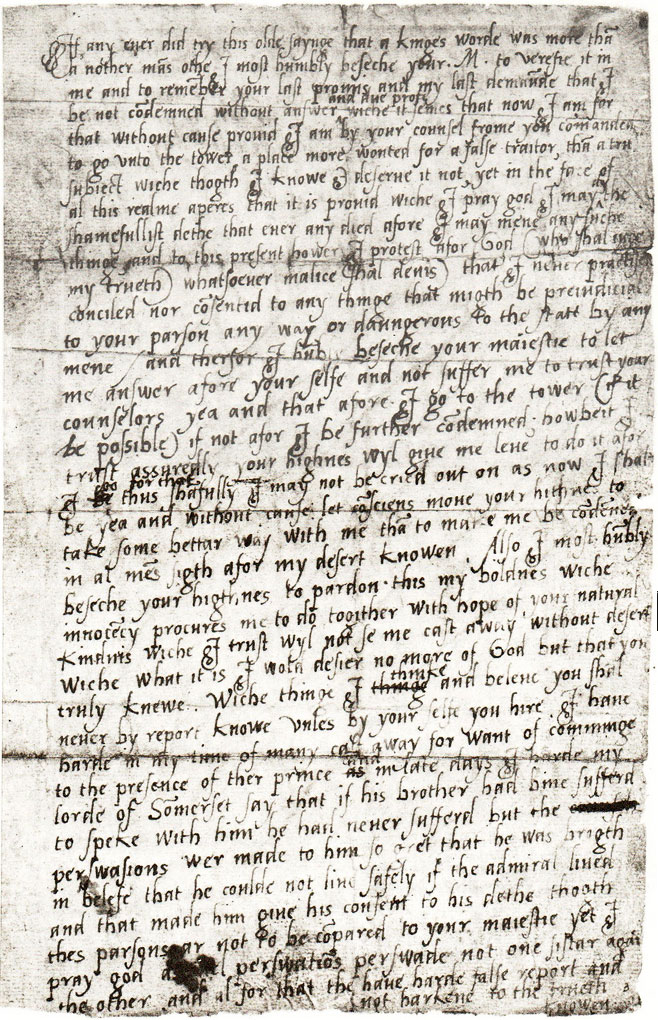 Although I've read a considerable number of books on both monarchs and their times, I have read few on the interim period – the reigns of Edward VI, Queen Jane and Queen Mary. This book captures that period nicely. It's a rich time for anyone interested in both history and politics because it was at a critical time in England's development, socially, culturally, politically and religiously.
It's exciting stuff, full of plotting, mystery, uprisings, secret meetings, international diplomacy and war. And the young Elizabeth navigated these rocky waters deftly. Most of the time. She was the child of both Henry and Anne Boleyn, and both were strong, intelligent and passionate people; traits that emerge in Elizabeth at an early age.
The book also has some darker moments; suggestions of sexual abuse at the hands of her stepfather, Thomas Seymour,  when he was her guardian, but that get played here as more inappropriate and saucy than actual consummation.
In the early years, her sister Mary is almost a cast-out: her mother rejected, her religion denigrated, and she forced to serve as maid to the baby Elizabeth (while Anne was queen). That changed as her father's marriages changed, and when Edward took the throne she was living alone (albeit in state), but one suspects it was a humiliation she never forgot.
The real story, the real excitement, gets into high gear when Edward VI dies, and Mary is crowned. Initially popular, "Bloody Mary's" conservative Catholicism and intolerance towards any form of Protestantism, as well as a series of poor decisions and polices, turned the populace against her. And the Protestant Elizabeth looms as a greater threat as Mary ages and proves unable to bear an heir. It's gripping stuff.
I like Starkey's writing. I don't care much for him as a presenter or host on TV, but his writing here is easy to digest (written mostly in short chapters), factual and focused. And he is meticulous with his facts and sources. He is, however, a little lovestruck with the young Elizabeth, and admits his admiration for her.
Does that colour or bias his view? Undoubtedly, but historians are seldom completely objective. Almost every biography I've read of Elizabeth is unabashedly respectful and even positive in its coverage of her royal years. But almost all have glossed over these early, formative years, to focus on her role as queen.
Elizabeth learned the lessons of these days; learned about handling the people, about appointing advisers (and heeding their advice or at least making a show of doing so), about making policy and how to handle the tricky business of religion. This is the story of her growth from a vulnerable girl to a master politician.
What caught my attention most is that politics  – dirty politics – has always been with us, has always been the same (in fact, I was recently rereading Qunitus Cicero's 2,000-year-old advice to his brother about winning Roman elections – the Commentariolum Petitionis – and it reads like surprising modern advice – but I'll blog about that, later).
Elizabeth was the constant subject of gossip, innuendo, allegation and outright lies. Her enemies made up fantastic tales, wild stories aimed at discrediting her, making her vulnerable and even hoping to see her executed.
While they lacked the social media of today, her opponents got their message spread by word of mouth and anonymous pamphlets. Her enemies were apparently as relentless in their ad hominem attacks against her as today's bloggers are against the local council. And as truthful. None of the alleged pregnancies, affairs, conspiracies and plots proved true.
But the people who mattered weren't fooled. They knew the truth. The people supported Elizabeth and kept their faith in her, stayed loyal, even under torture, and imprisonment. A lesson for today's politics: the people who matter are not swayed by evil, gossip and lies. Good people will always believe the truth.
~~~~~
* In our visit to the National Archives, I also got to see and hold among other historical artifacts and documents; Nelson's will, Shakespeare's will, memorabilia from Henry VIII and Elizabeth I, among other items.
Holding Shakespeare's will was, to me, the most moving of all. We were treated to a personal tour of the inner workings of the National Archives. We got to see the back rooms, the storage areas, the map rooms, the textile collections, the offices, the vault… all in all it was terribly exciting for anyone with an interest in history. I could have spent my entire vacation in that one building. But then I would have missed Hampton palace, Ham House, the British Museum, Windsor Castle…
Latest posts by Ian Chadwick
(see all)