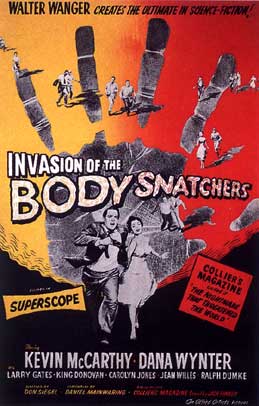 Ever read Jack Finney? I knew the name, but I never read any of his books. I knew he was the author of the 1955 pulp novel, The Body Snatchers.  This became the basis for the 1956 movie, The Invasion of the Body Snatchers. That is one of my all-time favourite B-films, one I can watch almost endlessly. I like it even more than the 1978 re-make. I have both (of course), and even have have the subsequent – and less impressive – remakes: Body Snatchers (1993) and The Invasion (2007). Plus a few of the below-B spinoffs like Invasion of the Pod People.
But I never got around to reading Finney's original. Not sure why, since I've read in the past and still read a lot of the pulp sci-fi/fantasy novels of the 1930s-60s.
A couple of years ago, I came across an unabridged audiobook of Finney's Body Snatchers on sale at a nearby Chapters store. I often listen to audiobooks when I travel outside town and thought this would be amusing. Instead, I was impressed by how good it was, how well written. Well above the usual pulp standards. This was the work of an accomplished, talented writer.
And I was pleasantly surprised to find I liked the audiobook better than the movie. A lot more. That's some accomplishment. Sure, I usually prefer like books to their movies, but seldom do pulps scale the heights above their B-flicks this way.
I liked it so much, I played it for Susan – who doesn't like the movies or the scary genres – and she agreed: it is very well written. Not scary as much as dramatic. Finney has a remarkable eye for detail.
Yesterday, on my trip to the city, I started to listen to it for a third time. It struck me again as such a well-crafted novel I decided to stop at the Chapters on the way home and see if they had a copy so I could read it. Of course, they didn't (Chapters, I think, has gone steadily downhill as a bookstore since they decided to add geegaws and lifestyle tchotchkes to their stock at the expense of space for books…). But that store had another of his novels: Time and Again (1970). Which I bought.
Time and Again is an illustrated and painstakingly researched time-travel novel about travel to New York in 1882. That's a period that intrigues me – my grandfathers were born in that decade – the age of Tesla and Edison and Jesse James; the year Darwin and Emerson died; Hitler and FDR were born; Wilkie Collins, Mark Twain and Jules Verne were writing.
Apparently the book is has become some sort of "underground classic" – at least according to the back cover notes – although I have to admit that, even as an ardent scifi reader since the early 1960s, I never heard about it (my underground cohorts seemed to be reading more Jack Kerouac and Gary Snyder than scifi…). Yet apparently novelist Stephen King hailed it as "THE great time-travel story," so what do i know.  I'll let you know what I think about it once I've read it.
I also see from this morning's googling, that there is a movie of Time and Again in the works, although the latest news I've read seems to be from 2012. Has it been shelved since then?
Latest posts by Ian Chadwick
(see all)